CORPORATE LEGAL RISK MANAGEMENT SUMMIT 2018
On 24-25 May 2018
CONFERENCE OVERVIEW:
One of the core skills of the in-house lawyer in today's world is their ability to manage the risks in this more intense climate. Our focus is to share the Cutting-Edge Strategies & Know-How to Manage Legal Risks Prevent Severe Damages from Legal Cases & Sustain Good Corporate Governance to the in-house lawyers and legal counsel team to understand the suitable legal practices of corporate legal risk management for sustainable corporate legal practices.
Attend this conference which will be a gathering of legal experts to dissect issues that are critical to putting in place legal risk management programmes and also its compliance. Minimize or eliminate your organization's exposure to legal risks in today's challenging business environment by attending the various case studies and discussion that will be put to the table at this prestigious event.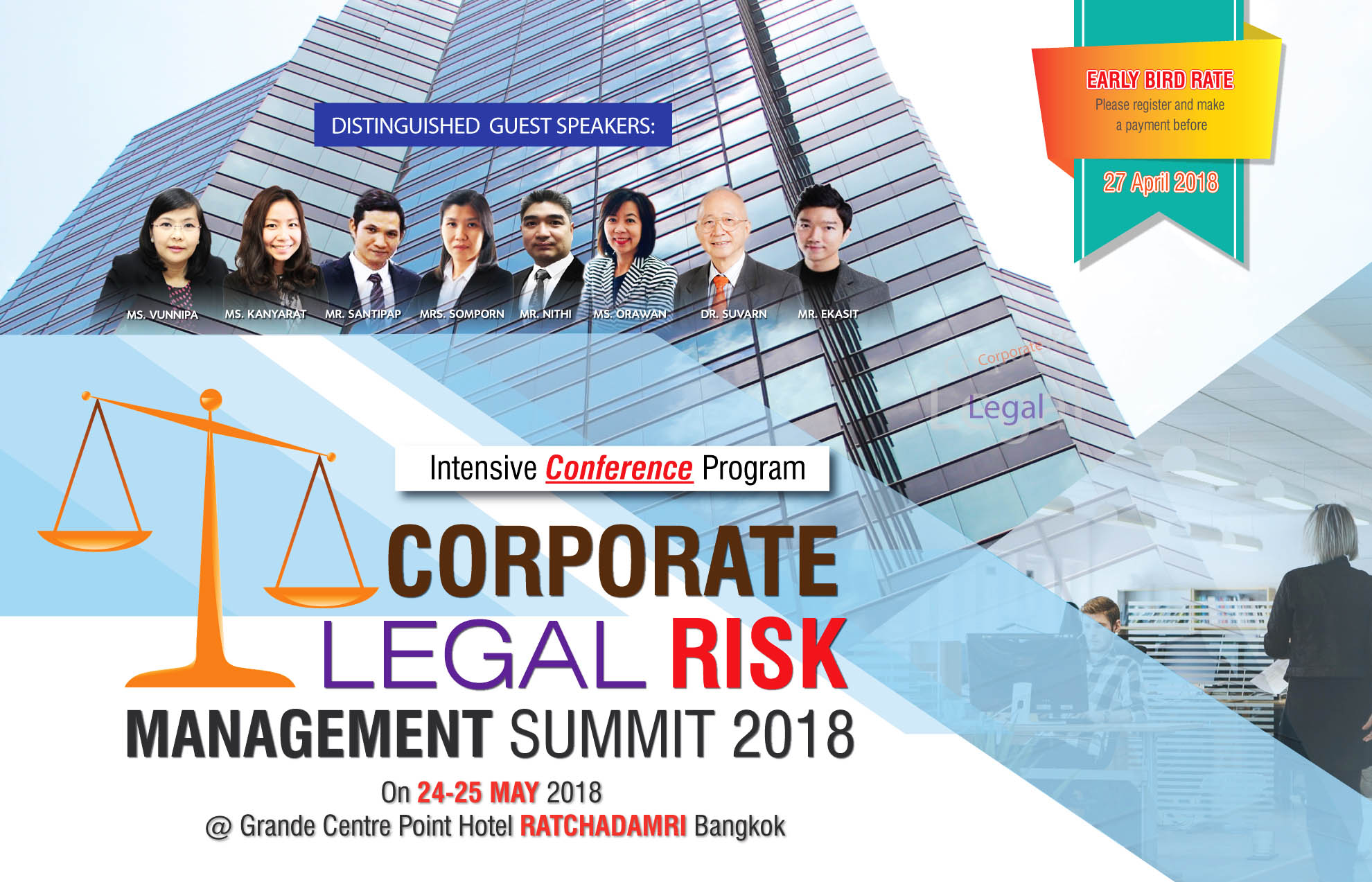 KEY BENEFITS OF ATTENDING THIS EVENT:
♦  Practical program for in-house lawyer
♦  Fill in the gap of legal mistakes in corporate practices
♦  Concentrate on legal practices adopted by the corporate counsel
♦  Sharing with real case study in key legal areas
LEARNING OUTCOMES:
Attend this Informative Event and Gain Practical Insights Into:
●  Connecting your legal risk to the organisation's business processes
●  Understanding, implementing and enforcing various regulations that significantly impact your business
●   Increasing your organisations awareness and understanding with the latest developments in legislation and regulations and how it correlates to your daily business operations
●  Strategising on making your business more agile by minimising legal exposure and risks
●  Developing procedures for risk response as a shield to safeguard your business
●  Putting in place controls to ensure business wide compliance
WHO SHOULD ATTEND?
Individuals holding the following job titles:

►  General Counsels
►  Assistant General Counsels
►  Deputy General Counsels
►  Regional Counsels
►  Chief Legal Officers
►  VPs and Heads of Legal Services
►  Group Heads of Legal
►  Heads of Legal
►  Chief Compliance Officers
►  Corporate Legal Counsel
More information, please Call 063 775 2680 for Full Brochure
Registation
Request a Brochure