CORPORATE FRAUD CONTROLS & DETECTION CORRUPTION CONFERENCE 2018 On 16-17 August 2018
CONFERENCE OVERVIEW:
Fraud and corruption remain business risks affecting organizations of all types and sizes. The direct costs and implications are high, not forgetting the reputational damage, investigations costs, loss of business opportunities and confidence. An effective defense is that directors, management and executives must play a key role in mastering corporate governance, ethical leadership and compliance.
This conference requires that we learn to address the challenge; how we can ensure that we actively defend ourselves and our organizations against the very real threats we would rather not see.
"Corporate Fraud Controls & Detection Corruption Conference 2018" This course has been specially designed to provide you with the skills needed for focusing on managing the increased perception and pressure to combat fraud and corruption within and outside your organization.
This event will bring together key experts and thought leaders in the THAILAND to deliver case studies and best practices towards proactive fraud and corruption management, reducing your organization's risk exposure.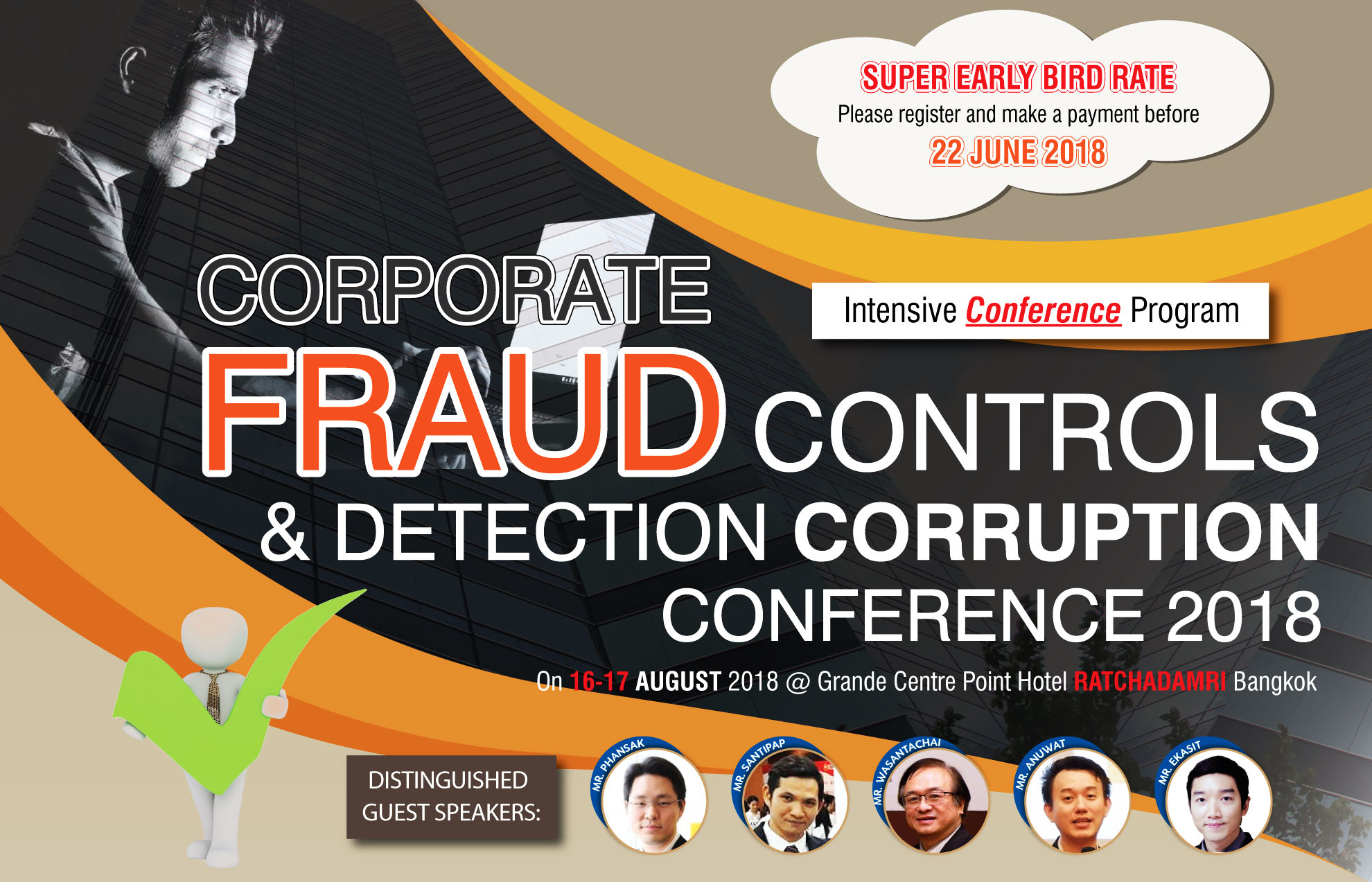 KEY BENEFITS OF ATTENDING:
Engage in networking opportunities with some of Thailand's fraud control and anti-corruption professionals

Learn practical ways in developing effective detection and prevention methods for strengthening your organization's response to possible exposure

Discover insights and case studies successfully combatted internal and external suspected fraud

Develop your understanding of the challenges around the current fraud legislative requirements and policies to manage organizational reputation while being transparent with staff

Formulate strategies for the prevention, detection and complete elimination of fraud and corruption in your organization.

Discover the latest strategic developments & techniques in the current fraud trends.

Learn Disciplinary processes & labor disputes (resulting from fraud and corruption)

Learn the art of fraud interviews.
WHO SHOULD ATTEND?
The conference is designed for CEO's, Vice Presidents, Directors, General Managers, Head of Departments, Senior Executives, and Manager of the following job areas:
Fraud prevention & investigation

Internal audit

Internal Control

External Audit

Private practitioners

compliance officers

auditors

law enforcement officials

Financial risk
Human resource management applicable for certain organizations certain industries and from across all financial institutions such as: Banking & Finance institute, Oil & Gas, Petrochemical & Chemicals Construction, Insurance, Telecommunication, securities market, government  etc.
More information, please Call 063 775 2680 for Full Brochure
Registation
Request a Brochure