WINNING BUSINESS ENGLISH COMMUNICATION FOR WORK WORKSHOP 2018 On 19-20 June 2018
WORKSHOP OVERVIEW:
"Winning Business English Communication for Work" workshop is specifically designed for Thais who use English in a business setting and desire to learn language that can help them achieve greater success in a career. This course will enhance the confidence to speak, to make good impression, to understand various kinds of business scenarios and contexts to implement best-practice techniques and be successful in real-life business communication. In addition, foreign clients and colleagues may have quite different opinions, expectations and attitudes; therefore, applying win-win communication strategy to your business English communication will certainly help you to "SAY ANYTHING, TO ANYONE, ANYWHERE" with success and achieve your goal.
With the course's main focus on business English communication, not only speaking and listening but also real-life situations, you will develop the fluency, accuracy and definitely gain all the essential skills you need to meet the challenges of using English and work confidently in workplace and business world. You will develop the fluency, accuracy and communication skills you need to work confidently in the English-speaking business world. You also learn how to effectively communicate in daily business conversation (face-to-face and telephone conversations), handle clients and colleagues' requirements, requests and complaints, sail through in business meetings and presentations, and express yourself in a confident and assertive manner.
With our unique technique "Eduplement", you will learn, develop, apply, and master effective English communication with no stress or any difficulties. Class environment, activity and workshop will enable you to gain positive attitude, confidence, as well as great techniques to work effectively and practically handle any English conversation in real business situations with happiness and success.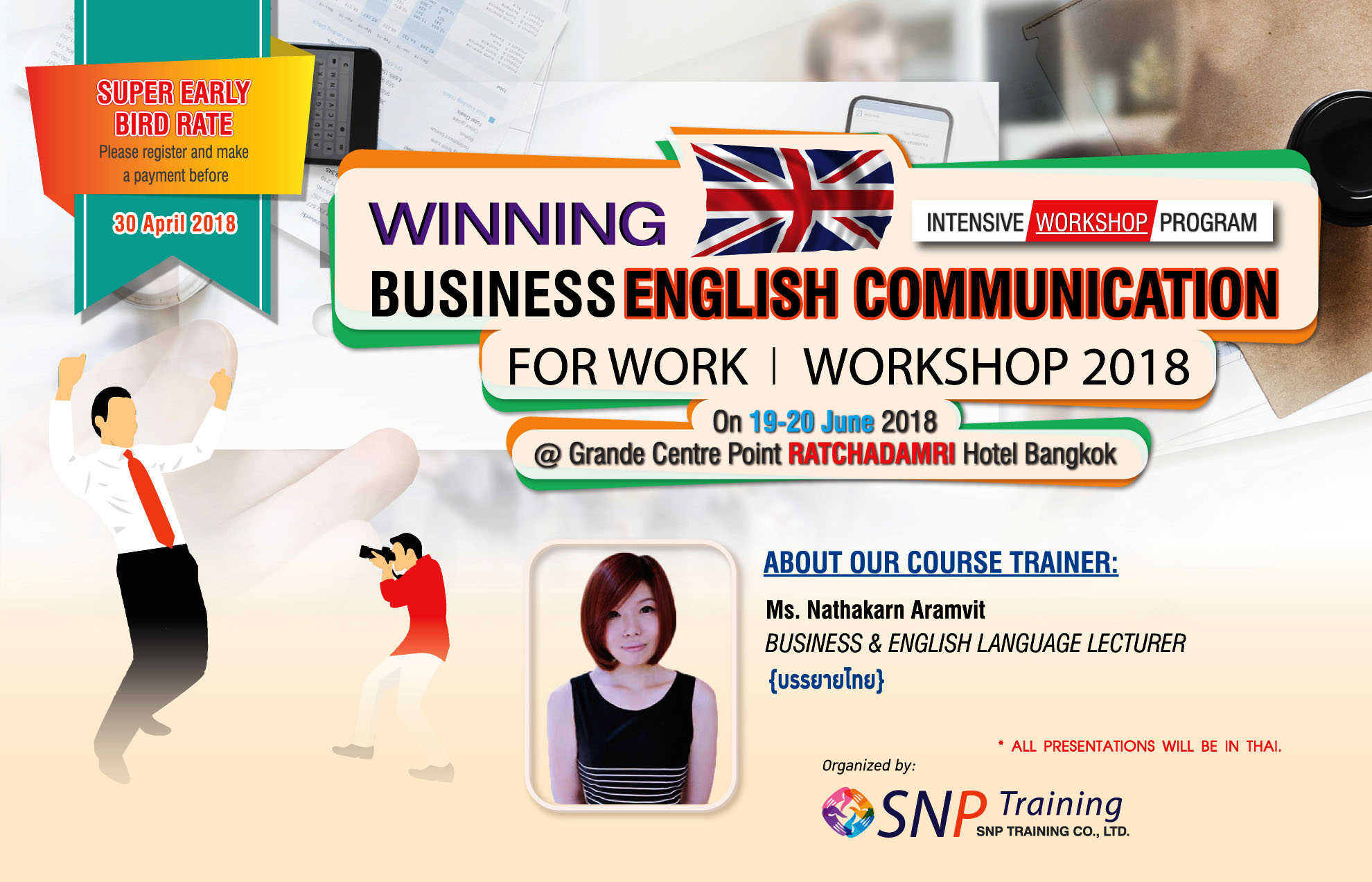 IN THIS COURSE YOU WILL:
Gain confidence and positive attitude toward using English in real-life business situations which are the key elements of mastering English language for success.

Develop 2018 new technique "SAY ANYTHING, TO ANYONE, ANYWHERE" English.

Learn extensive business English vocabulary, core conversation techniques, and how to present an impressive image to effectively handle different business and working situations to meet customers and organization's expectation and satisfaction.

Improve your listening, speaking and pronunciation skills through proactive activities based on real business situations such as contacting foreign customers (face-to-face and telephone conversations)

Develop essential skills and techniques for the workplace and real-life business scenario, not only to reach your objectives but also create a solid, strong, and lasting business relationship.

Develop win-win based English communication techniques, both speaking and writing by practicing through lesson, workshop and case study to reach your peak performance in real business world.

"No pain but gain" Business English training course through newest and effective workshops, fun activities, and happy-class environment.
COURSE OUTCOME:
Become more confident when communicating in English with foreign clients and colleagues at work.

Improve the skills you need to meet the challenge of using English in the business world.

Equipped with essential and winning techniques in English communication to handle any situations effectively, reach company's goals and manage to effectively say anything, to anyone, anywhere.

More of happiness, productivity, and ultimate success through "better English + better you"
WHO SHOULD ATTEND?
Professionals (Managers, Business Owners) who need to improve business English skill and communications, (either formally or informally)
COACH'S OVERVIEW:
MS. NATHAKARN ARAMVIT
BUSINESS & ENGLISH LANGUAGE LECTURER
Education
DURHAM UNIVERITY, ENGLAND                     
Certificate of Extension Program on Educational Technology, Graduate School
M.A., English as an International Language (International Program) – Teaching English as an International Language, Graduate School   (GPA. 3.88)
CALIFORNIA STATE UNIVERSITY, USA
Certificate of Advanced Learning Technology Program
B.A. English (HONS), Faculty of Liberal Arts
Highlights of Qualification
Possess extensive experiences in business and human resources management and development consulting area including business English, English for specific purposes, self–Improvement, personality development, customer relationship management, customer services, top executive secretary, key success of administration, effective communication for success and effective presentation and meeting.

Be a part of successful management teams in Fortune 500 companies.

Have a proven experience in human resources management and development.

Designed and conducted Business English courses for specific purposes with a unique technique for real-life working scenario and peak performance development.

Graduated with Honors in English from Thammasat University (B.A.) and Chulalongkorn University (M.A.) with the extensive business training in human resources development and international business.

Facilitate training courses with unique and effective "Eduplement" approach to unlock the ultimate potential of learners and enhance true application to real-life business scenario.

Excellent command of spoken and written English.
More information, please Call 063 775 2680 for Full Brochure
Registation
Request a Brochure