UNLOCK POSITIVE THINKING & COMMUNICATION FOR PROACTIVE SALES WORKSHOP 2018 On 12-13 July 2018
WORKSHOP OVERVIEW:
Are you looking for a sales training course that will develop you and your sales force to:
Increase the number of sales opportunity, prospect customers, sales volumes and definitely break-record sales performance.

Know what customers are truly looking for, what they really need, so you can choose the right strategy to win their hearts and definitely sales productivity.

Get new prospect customers, gaining more loyalty customers and secure success with strong, proactive and effective sales team.

Have low turnover on sales professionals; high sales team synergy; and effective customer and team communication.
If you are looking for all of these successful outcomes, the most important factor is transforming to be a proactive sales professional with the right mindset, positive attitude, inner strength, and self- motivation.
Our "Unlock Positive Thinking & Communication for Proactive Sales" is definitely the right training course to develop this kind of top sales qualities. This all-in-one course provides a unique opportunity for sales professionals to be equipped with all qualities they need to be successful and reach peak performance. Along the course workshops and activities, you will develop proactive sales techniques with positive attitude and right mindset, inner strength and EQ, selling and closing skills as well as "why-what-how" communication strategy. 
With all techniques, both in soft and hard skills, you will effectively close sales faster, persuade and motivate customers' decision to say "Yes", and  to apply communication techniques in selling "value", not "price"; "feeling", not fact" and "benefits, not features" to maximize sales volumes and expand loyalty customers.
You will proactively learn and practice through real-world selling case study and in-the-field solution workshop to most effectively apply everything you experience in class to your real-life work as a A+ sales professional.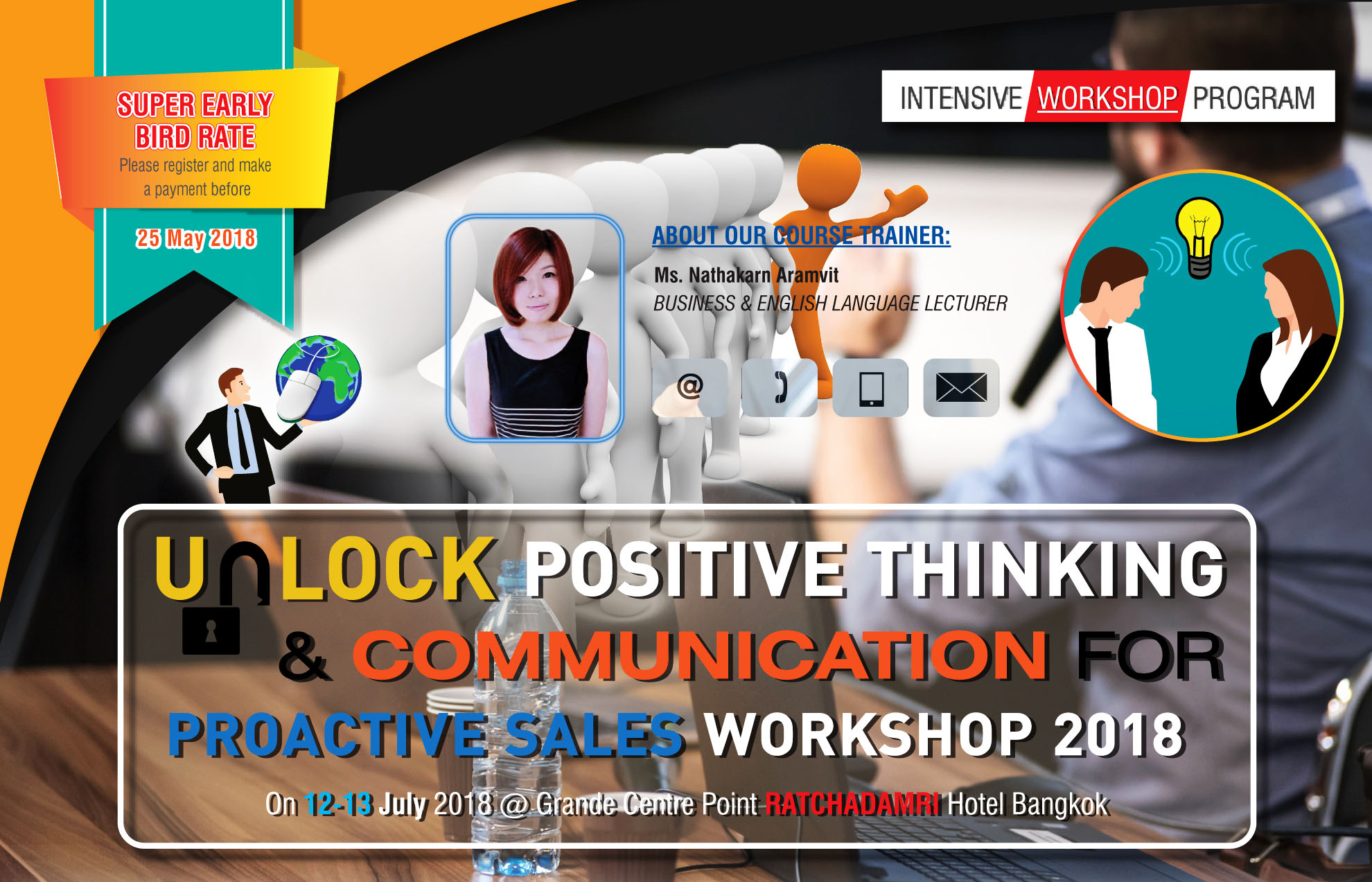 COURSE OBJECTIVES
Develop and unlock positive attitude and right mindset for successful proactive sales professionals.

Understand and install happy-to-sell thinking, self-motivation, and 3-Ps habits (Proactive + Positive + Productive).

Understand customers' needs and their thinking along the selling and buying process to anticipate the right technique to effectively handle hesitation, objection, and questions.

Understand customer's buying steps to use the right tool at the right time and motivate buying decision.

Learn and develop positive and psychological communication strategy to connect "why" customer wants to buy, "what" customer wants to hear, and "how" you communicate to achieve closing.

Learn and develop proactive closing techniques "not price, but value", "not fact, but feeling" and "not features, but benefits" to maximize sales volumes and expand customer

Learn through case study and workshop focusing on real-world selling situation, in-the-field solutions.
WHO SHOULD ATTEND?
(Business Owners, CEO's, Sales Managers & Sales Team) who need to Unlock Positive Thinking & Communication for Proactive Sales
COACH'S OVERVIEW:
 MS. NATHAKARN ARAMVIT
BUSINESS & ENGLISH LANGUAGE LECTURER
Education
DURHAM UNIVERITY, ENGLAND                     
Certificate of Extension Program on Educational Technology, Graduate School
M.A., English as an International Language (International Program) – Teaching English as an International Language, Graduate School   (GPA. 3.88)
CALIFORNIA STATE UNIVERSITY, USA
Certificate of Advanced Learning Technology Program
B.A. English (HONS), Faculty of Liberal Arts 
Highlights of Qualification
Possess extensive experiences in business and human resources management and development consulting area including business English, English for specific purposes, self-Improvement, personality development, customer relationship management, customer services, top executive secretary, key success of administration, effective communication for success and effective presentation and meeting.

Be a part of successful management teams in Fortune 500 companies.

Have a proven experience in human resources management and development.

Designed and conducted Business English courses for specific purposes with a unique technique for real-life working scenario and peak performance development.

Graduated with Honors in English from Thammasat University (B.A.) and Chulalongkorn University (M.A.) with the extensive business training in human resources development and international business.

Facilitate training courses with unique and effective "Eduplement" approach to unlock the ultimate potential of learners and enhance true application to real-life business scenario.

Excellent command of spoken and written English.
More information, please Call 063 775 2680 for Full Brochure
Registation
Request a Brochure