TRAIN THE TRAINER: A TRUE TRANSFORMATION FOR SUCCESS WORKSHOP 2018 On 17-18 May 2018
WORKSHOP OVERVIEW:
   Training should be about inspiring people, giving them practical skills, enhancing them to reach their highest potential and guiding them to implement in-class practice in real-life working scenario, of course, through fun, innovative and stress-free training environment.
   If you are looking for the key to unlock yourself to be an excellent trainer to deliver such training excellence, our "Train the Trainer: a True Transformation for Success" is your best answer. Our special course is not about just training you to get people motivated, energized and equipped with information and skill. True transformation in training someone is to take all those information, knowledge and skills and transform them into action to get a practical result to achieve personal and corporate goals.
   Our 2-day "train the trainer workshop" will provide you with all the tools and approaches you need to become a 3-in-1 trainer, being a trainer, a coach and a mentor. You will not only discover how to train, teach and coach others to bring out their best potential, but also be able to customize all the techniques into your own training sessions. The core concept focuses on how to empower others to unlock their true potential to reach their peak performance.
   With our unique technique "Eduplement", you will learn, develop, apply, and master all the training tools and practice with no stress or any difficulties. Class environment, activity and workshop will enable you to gain positive attitude, confidence, as well as great techniques to facilitate your own training session in real situations with great success and become a true transformational trainer.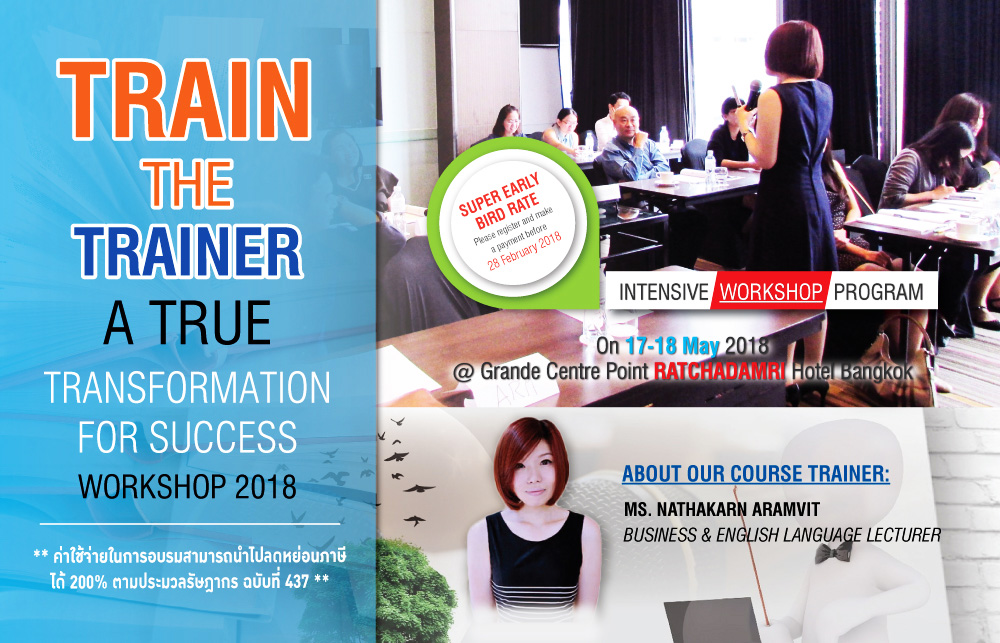 KEY BENEFITS OF ATTENDING:
In This Course You Will:
Gain confidence and positive attitude in transforming yourself to be an excellent trainer.

Develop essential skills, techniques and practical application in developing A-star trainer personalities, tailoring training course and outline, developing tools and materials, and facilitating training session for success.

Adapt your style and training approach to suit the situation and audiences.

Develop the ability to creatively tailor each training session, make learning environment exciting and inspiring, deliver control your voice more effectively.

Develop and enhancing 360° communication skills for 3-1 successful trainer.
WHO SHOULD ATTEND?
Executives, managers, and supervisors; Staff looking to progress into a management position; Professionals wanting to learn advanced communication and coaching as a management skill. 
COACH'S OVERVIEW:
MS. NATHAKARN ARAMVIT
BUSINESS & ENGLISH LANGUAGE LECTURER
Education
DURHAM UNIVERITY, ENGLAND
Certificate of Extension Program on Educational Technology, Graduate School
M.A., English as an International Language (International Program) – Teaching English as an International Language, Graduate School   (GPA. 3.88)
CALIFORNIA STATE UNIVERSITY, USA
Certificate of Advanced Learning Technology Program
B.A. English (HONS), Faculty of Liberal Arts
Highlights of Qualification
Possess extensive experiences in business and human resources management and development consulting area including business English, English for specific purposes, self-Improvement, personality development, customer relationship management, customer services, top executive secretary, key success of administration, effective communication for success and effective presentation and meeting.

Be a part of successful management teams in Fortune 500 companies.

Have a proven experience in human resources management and development.

Designed and conducted Business English courses for specific purposes with a unique technique for real-life working scenario and peak performance development.

Graduated with Honors in English from Thammasat University (B.A.) and Chulalongkorn University (M.A.) with the extensive business training in human resources development and international business.

Facilitate training courses with unique and effective "Eduplement" approach to unlock the ultimate potential of learners and enhance true application to real-life business scenario.

Excellent command of spoken and written English.
More information, please Call 063 775 2680 for Full Brochure
Registation