PROFESSIONAL ENGLISH EMAIL & BUSINESS WRITING FOR SUCCESS WORKSHOP 2018 On 22-23 March 2018
WORKSHOP OVERVIEW:
When communicating with someone about a work-related matter, it is always important to be professional. Email writing is not an exception. As with any business correspondence, poor spelling, ineffective writing, or inappropriate email etiquette can all impact on the audience, with consequences ranging from simple misunderstandings through to damaged reputation and potential loss of business. 
"Professional English Email & Business Writing For Success" training course combines the general principles of good correspondence with a more specific focus on the pitfalls of email writing and email etiquette. Tips and workshop will be included to transform knowledge into action. This is highly practical course that enable participants to create the desired impact and convey the right message more effectively for business success through professional email and business writing.
This program does highlight many important areas of email and business writing. In addition, further application of the concepts, principles and skills will help to refine and reinforce the practice and connect to real-life business situations. Participants are encouraged to expand knowledge, skills, and confidence in English writing through discussion, workshop and reflection. With course instructor's  "Eduplement" unique techniques, participants will confidently and positively learn and develop English email and business writing skills in pressure-free environment and successfully transform knowledge into real-life practice at work effectively.
Practical in real-life business situations

Learner-centered & communicative approach

Exceptional results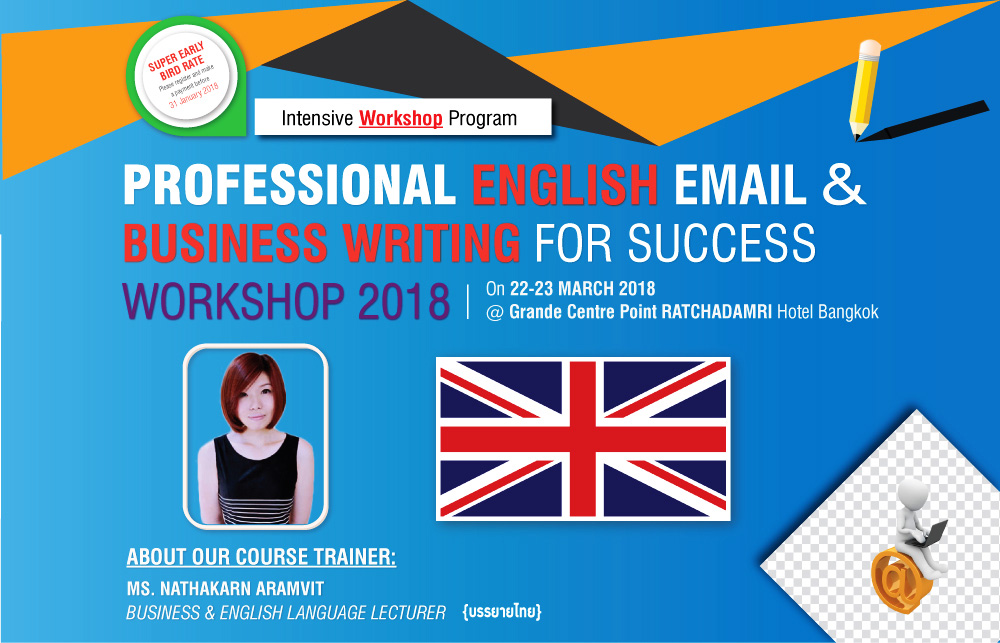 COURSE OBJECTIVES:
The key objectives of this program are to assist participants:
To develop participants' insight understanding of professional English email and business writing from the writing principles, email writing steps and structure, communication strategies, win-win writing techniques, and best practice in real-life business situations.

To equip participants with knowledge of writing styles, language structure, formality (formal/ informal)

To develop an understanding of cross-cultural communication concept to avoid misunderstanding and negative attitudes caused by cultural difference and misconduct.

To enhance confidence and positive attitude towards English writing to make them comfortably deliver effective email and business writing for success.

To enable participants to effectively apply knowledge and techniques into action at workplace through workshop, discussion and reflection.
WHO SHOULD ATTEND?
Professionals (Managers, Business Owners) who need to improve business English writing skill and Communications, (either formally or informally)
COACH'S OVERVIEW:
MS. NATHAKARN ARAMVIT
BUSINESS & ENGLISH LANGUAGE LECTURER
Education
DURHAM UNIVERITY, ENGLAND
Certificate of Extension Program on Educational Technology, Graduate School
M.A., English as an International Language (International Program) – Teaching English as an International Language, Graduate School   (GPA. 3.88)
CALIFORNIA STATE UNIVERSITY, USA
Certificate of Advanced Learning Technology Program
B.A. English (HONS), Faculty of Liberal Arts
Highlights of Qualification
Possess extensive experiences in business and human resources management and development consulting area including business English, English for specific purposes, self-Improvement, personality development, customer relationship management, customer services, top executive secretary, key success of administration, effective communication for success and effective presentation and meeting.

Be a part of successful management teams in Fortune 500 companies.

Have a proven experience in human resources management and development.

Designed and conducted Business English courses for specific purposes with a unique technique for real-life working scenario and peak performance development.

Graduated with Honors in English from Thammasat University (B.A.) and Chulalongkorn University (M.A.) with the extensive business training in human resources development and international business.

Facilitate training courses with unique and effective "Eduplement" approach to unlock the ultimate potential of learners and enhance true application to real-life business scenario.

Excellent command of spoken and written English.
More information, please Call 063 775 2680 for Full Brochure
Registation