LOGISTICS AND SUPPLY CHAIN RISK MANAGEMENT CONFERENCE 2018 On 29-30 March 2018
CONFERENCE OVERVIEW:
The LOGISTICS AND SUPPLY CHAIN RISK MANAGEMENT CONFERENCE 2018 is where SCM leaders from across industries come to share ideas and learn from the best. It's where you can access expert analysis, the latest case studies and the information you need to optimise you supply chain in a changing environment.
The conference will highlight new knowledge, methodologies, tools and techniques to advance logistics and supply chain execution in order to minimize cost and get performance excellence with better forecasting and operating in route planning, purchasing, warehousing, distribution network.
This two day Summit allows at experience and different angles to assist analyzing new trends and improvement in all strategic, tactical and operational levels to ensure that the logistics and supply chain operation is as efficient as possible and generates the highest level of customer satisfaction at the lower cost.
Above all, SNP provides clients with business information and knowledge which enables them to sustain a valuable competitive advantage and makes a positive contribution to their success.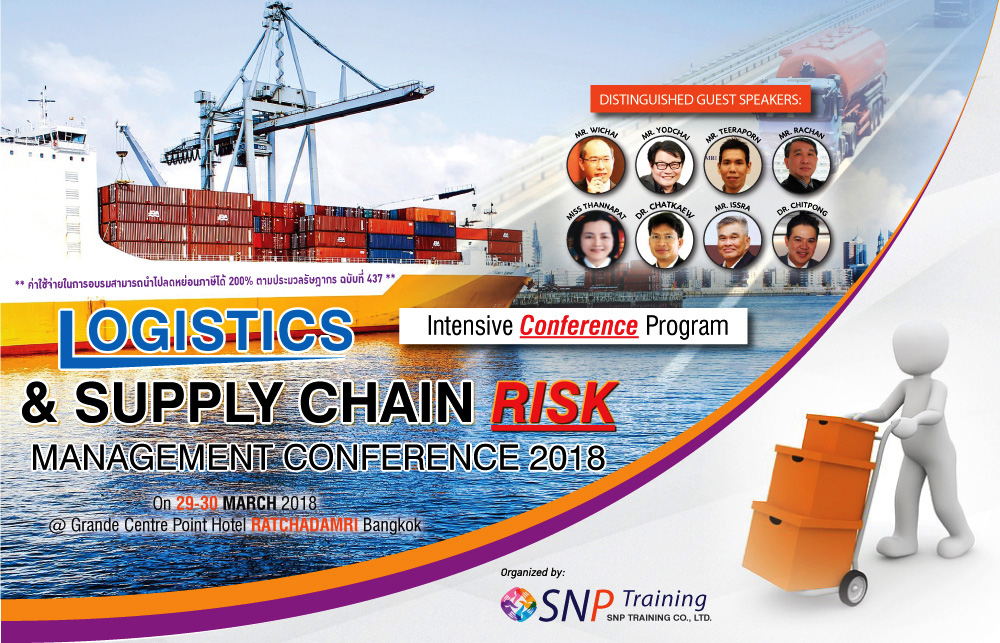 KEY BENEFITS OF ATTENDING THIS EVENT:
Learn from the experts with new case studies on transfor mative supply chain practices and customer-centric strategies

Understand the impact of disruptive technology on current and future supply chain management

Achieve a responsible supply chain by implementing well-aligned sustainability practices within your organisation

Understanding the Thailand customs and Import-Export

Ensure operational supply chain efficiency through better collaboration strategies and supplier engagement

Build agile operations to meet different and more complex customer expectations

Connect and engage with qualified leaders from the Thailand supply chain and logistics community
LEARNING OUTCOMES:
Understand how to audit all key areas of your supply chain and score your effectiveness against benchmarks

Gain practical tools to improve on key effectiveness measures

Apply lean processes to your supply function

Avoid ad hoc solutions that create more work and slow customer response times

Set KPIs for your procurement function

Reduce inventory, price fluctuations and paperwork with effective forecasting systems

Understand the key issues impacting on supply chain processes for the coming year
WHO SHOULD ATTEND?
This conference is specially designed for CEOs, VPs, MDs, GMs, Directors, Managers, Heads, Senior Executives, Decision-Makers, and Specialists who are responsible for:
Supply chain

Logistics

Warehouse & Inventory

Transportation

Purchasing

Distribution

Material management

Procurement

Logistics equipment inventories
More information, please Call 063 775 2680 for Full Brochure
Registation