ESSENTIAL SKILLS FOR EXECUTIVE SECRETARY AND PERSONAL ASSISTANT WORKSHOP 2018 On 25-26 July 2018
CONFERENCE OVERVIEW:
The role of today's Executive Secretary and personal assistants professionals involves much more responsibility, skill and knowledge than ever before.
So you think being an executive secretary and personal assistants is easy?
One minute you're making sure the boss is prepared for his meeting and the next you're sorting through all the never ending email and fielding phone calls. You're the only person in the entire office to know where anything is. And you are not allowed to forget anything.
You're in one of the world's toughest job. Yet everyone hilariously think your job is easy.
This training course will allow EAs and PAs to understand what your Executives' key challenges are and to understand the decision making process within an organisation. This will allow you to better priorities, knowing what is important in relation to organisational goals, so that you do not "work in the dark".
Step up to a strategic level role, build your presence and influence within the Executive team, and cement your position as a valuable professional resource not just for your manager but for the wider organisation. The knowledge gained from the course will enhance your skills, knowledge and abilities to continue to widen the scope of your role.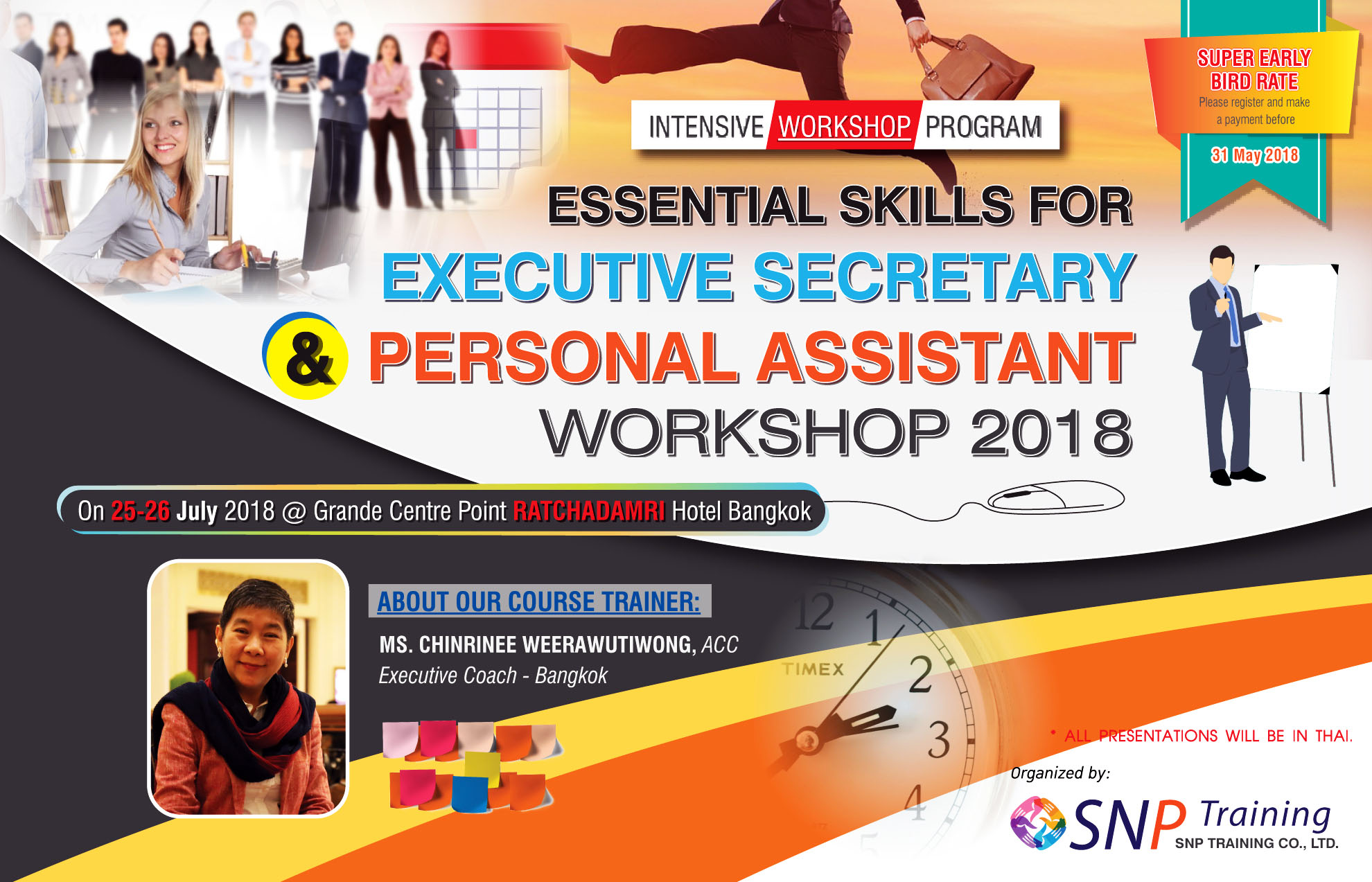 THIS IS FOR YOU IF YOU WANT TO…
Supporting Your Boss to Lead Change for the Future of Corporate Growth

Unlock the power of your subconscious mind to boost your energy and confidence

Boost career success by becoming motivated and directed in proven approach to unlock potentialities

Be more effective by taking more control over their time management and work output.

Developing creative problem solving skill

Preparing And Delivering Effective Presentation As An Executive Assistant

Handle challenging people and situations effectively

Recognizes ways to better support the boss's role and objectives

Gain a new awareness of what motivates you and learn powerful influencing techniques

Leverage on powerful tools and techniques to become advanced communicators and create your own powerful personal branding and be able to articulate your strengths and value to the organisation

Learn how to have confidence even when you step out of your comfort zone
WHO SHOULD ATTEND?
Office Managers

Executive PAs

Senior Office Administrators

Management Secretaries

Executive Secretaries

Executive Assistants

Senior Secretaries

Department Co-ordinators

Personal Assistants

Office Administrators

Project Managers and Secretaries
COACH'S OVERVIEW:
MS. CHINRINEE WEERAWUTIWONG, ACC
Executive Coach – Bangkok
Ms. Chinrinee was a former Senior Office Manager at PricewaterhouseCoopers ("PwC") for 16 years. Ms. Chinrinee provides coaching, consulting, lecturing and organizing a workshop to executives in Multi-national Corporation and the general public. She has extensive experience as a consultant in executive coaching, organization development, positive organization change and transformation, personal and professional development and inner-self-development.
Area of emphasis include resilience and well-being to enhance a quality of life, leadership development, facilitating cross-functional collaboration, alignment, team work, conflict management, knowledge management, innovation and transformation. Due to her believe in a life-long learning and her inspiration to initiate a social renewal, she still keep on studying and graduated in Management, Education, Medical, Therapeutic and Health Fields from many Universities and Institutions in Thailand and abroad.
Representative Client Engagements:
Coach a General Manager in HR Solution to enhance her leadership skill, communication and strategic planning for company growth. She finally recruited her new team and extend a scope of work to provide a better solution for her clients.
Coach a young Entrepreneur (3rd generation) in Electronic Industry to become a next successor (CEO) of his family business. He is now able to see the big picture of business and value the difference of his 35 years old organization.
Coach a Managing Director to develop his leadership, training skill and team performance. He is now very successful in his business and become a coach.
Area of Expertise:
Appreciate Inquiry

Change Management

Conflict Management

Happy & Healthy Organization

Leading Innovation and Change

Learning Organization

Living Organization

Organization Development

Positive Psychology

7 Steps to Transform Organization

Resilient Leadership

Well-being
Education:
Executive and Professional Coaching | The University of Texas at Dallas

Critical and Creative Thinking Program in Dialogue Processes (Generative Dialogue) | University of Massachusetts at Boston

The Foundations of Positive Psychology | The University of Pennsylvania

MA, Leading Innovation and Change | York St. John University, UK (Continuing Education)
Assessments/Certifications:
Appreciate Inquiry

Art Therapist

Authorized Thai Traditional Doctor

MBTI

Music Therapist

Positive Psychology Coach

VIA Character Strength

Wellness Inventory
Professional Affiliation:
Associate Certified Coach, International Coach Federal

The Institute of Coaching Professional Association

American Society for Training & Development

American Psychological Association
More information, please Call 063 775 2680 for Full Brochure
Registation
Request a Brochure