EMPLOYEE FRAUD MANAGEMENT, DETECTION AND PREVENTION WORKSHOP 2018 On 27 April 2018 1-Day
WORKSHOP OVERVIEW:
Is Your Business at Risk for Employee Fraud?
Are you protecting your business from fraud?
You might be surprised to learn that, on average, seven percent of annual business revenues are lost to employee theft or fraud. With nearly one-third of all company bankruptcies caused by dishonest employees. Employers in every industry need to identify the areas of their business that are at risk for fraud and employ strategies to prevent fraud as quickly as they can.
This course has been specially designed to provide you with the skills needed for focusing on managing the increased perception and pressure to combat fraud and corruption within your organization.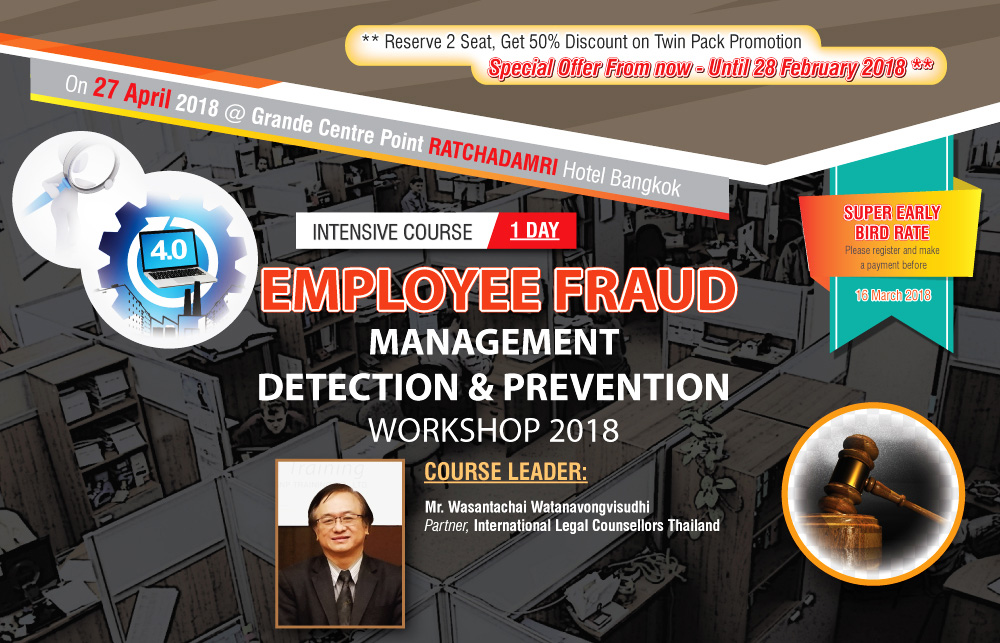 KEY BENEFITS OF ATTENDING:
Understand the fraud problem

Understand why employees commit fraud

Learn New Types of Fraud & Corruption

Learn Disciplinary processes & labor disputes (resulting from fraud)

Learn practical ways in developing effective detection and prevention methods for strengthening your organization's response to possible exposure

Best practices for developing and implementing anti-fraud controls

Building an anti-fraud control environment

Discover insights and case studies successfully combatted internal and external suspected fraud
WHO SHOULD ATTEND?
The conference is designed for CEO's, Vice Presidents, Directors, General Managers, Head of Departments, Senior Executives, and Manager of the following job areas:
Fraud prevention & investigation

Internal audit

Internal Control

Private practitioners

Compliance officers

Law enforcement officials
Human resource management applicable for certain organizations
certain industries and from across all financial institutions such as: Banking & Finance institute, Oil & Gas, Petrochemical & Chemicals Construction, Insurance, Telecommunication, securities market, government  etc.
COURSE LEADER:
Mr. Wasantachai Watanavongvisudhi
Partner, International Legal Counsellors Thailand
PROFESSIONAL EXPERIENCE:
     Over 30 years of experience in practice area of labor laws. He is a litigation partners dealing with various cases of labor disputes. He has successfully represented clients in many cases before the Central Labor Court of Thailand. His current position is a litigation partner and Expert on Labor Law, Litigation and Labor Department of International Legal Counsellors Thailand Ltd. He obtained LL.B. (Hons), Diploma in U.S. Business Law, Michigan campus and also LL.M. (Business Law) from Thammasat University, etc.
     Expertise in Labor litigation cases in various Labor Courts of Thailand.
    The expertise include the cases relating to dispute on unfair termination, labor claim, and labor dispute with the Labor Unions etc.
OTHER ACTIVITIES:
Law Lecturer (Visiting Instructor) on Labor Law, Siam University

Committee of Foreign Affair, Lawyers Council of Thailand (2013-Present)

Committee of Disciplinare Investigation, Lawyers Council of Thailand (2011)

Committee of Foreign Affair, Law Society (1989)
More information, please Call 063 775 2680 for Full Brochure
Registation