DEVELOPING EFFECTIVE LEADERSHIP & MANAGEMENT SKILLS WORKSHOP 2018 On 26-27 April 2018
WORKSHOP OVERVIEW:
     The Workshop features content and skill building on core leadership skills without which leaders struggle to be effective. Leaders will understand how management and leadership are different; gain awareness of their leadership style; learn skills for enhancing motivation through effective feedback and coaching; and learn mindsets and techniques to manage priorities. You'll discover the Heart, Soul and Mind of True Leadership. Through Role-Playing, Self-Assessment Tests and Other Leadership Training
     You will leave the program with fresh perspectives and tangible action plans and inspiring leadership throughout your organization.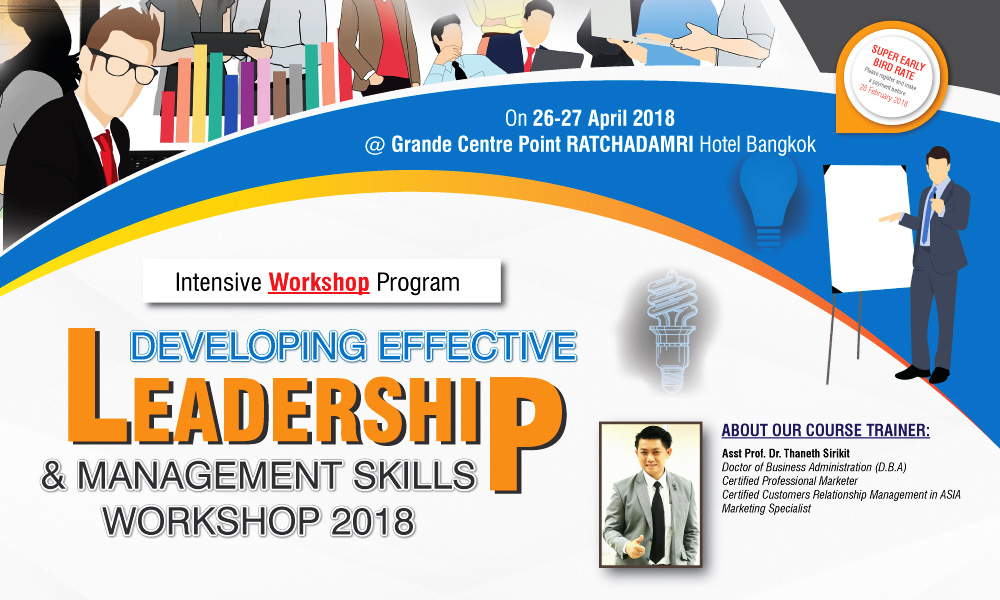 KEY LEARNINGS:
Learn the nuanced differences between leading and managing

Understand what leadership is and what is expected of leaders

Understand, recognize, and foster the right leadership qualities in yourself and others

Be a good listener & Communication. Talking about a situation or a problem expands communication so that understanding is improved.

Practice the skills and behaviors that separate leaders from managers

Understand personal leadership style and how to flex style in order to meet the needs of employees

Increase productivity through priority management and delegation
WHO SHOULD ATTEND?
This workshop is specially designed for;
Managing Directors

General Managers

Senior Vice Presidents

Vice Presidents

Directors

Heads Managers

Team leader

New Managers

Other Professional Advisors looking to update their knowledge and experiences
This new program is designed for experienced managers who want to step into a leadership role. If you want to challenge your perceptions about leadership and the values that shape it, this is the right program for you
ABOUT OUR COURSE TRAINER:             
Asst Prof. Dr. Thaneth Sirikit
Doctor of Business Administration (D.B.A)
Certified Professional Marketer
Certified Customers Relationship Management  in ASIA
Marketing Specialist
D.B.A (Doctor of Business Administration) Major Marketing:  AIU, (U.S.A)

M.M. (Management), Master's degree, CMMU, 1998

M.M. (Management), Master's degree, UTCC, 1997

Bachelor Degree of Business Administration, DPU
EXPERIENCE:
Deputy Chief of Management, NSU Commercial Co., Ltd. 

Executive Director of Marketing, Media-Link Co., Ltd.

Consultant, SCG Skill Development Co., Ltd.  

Professional Trainer, The Siam Cement PLC

Professional Trainer, SCG Logistic Management Co., Ltd.

Marketing Specialist

Special Lecturer, Masters of Marketing Program, Sripatum University
More information, please Call 063 775 2680 for Full Brochure
Registation